2 years ago
His home was a dense area of rainforest and he lived on the wild coconuts that grew in abundance. His principal enemy was the army of mosquitoes that arrived with each new shower of rain. But for Hiroo Onoda there was another enemy - one that remained elusive. Unaware that the Second World War had ended 29 years earlier, he was still fighting a lonely guerrilla war in the jungles of Lubang Island in the Philippines. His story is one of courage, farce and loyalty gone mad.
Hiroo Onoda was born to be a soldier. He had enlisted in the Imperial Japanese Army at the age of 20, receiving training in intelligence and guerrilla warfare. In December, 1944, he and a small group of elite soldiers were sent to Lubang Island in the Philippines. Their mission was to destroy the island's little airstrip and port facilities. They were prohibited, under any circumstances, from surrendering, or committing suicide.'You are absolutely forbidden to die by your own hand…' read Onoda's military order. 'So long as you have one soldier, you are to continue to lead him. You may have to live on coconuts. If that's the case, live on coconuts! Under no circumstances are you [to] give up your life voluntarily.' Onoda was unable to destroy Lubang's landing facilities, enabling US and Philippine forces to capture the island in February, 1945. Most of the Japanese soldiers were either imprisoned or killed. But Onoda and three others fled to the hills, from where they vowed to continue the fight.

Lubang Island was small: 16 miles long and just six miles wide. Yet it was covered in dense forest and the four Japanese soldiers found it easy to remain in hiding. They spend their time conducting guerrilla activities, killing at least 30 Filipinos in one attack and clashing with the police on several other occasions. In October, 1945, the men stumbled across a leaflet that read: 'The war ended on August 15. Come down from the mountains.'
Onoda did not believe it: he was convinced it was Allied propaganda.
A couple of months later, the men found a second leaflet that had been dropped from the air. It was a surrender order issued by General Tomoyuki Yamashita, Commander of the Fourteenth Army. 
Once again, Onoda and his men did not believe it to be genuine and vowed to continue Japanese resistance. Four long years passed and still the little band were living in he forest. But by now, one of the four - Yuichi Aktsu - had had enough. He abandoned his comrades, surrendered to the Filipino army and returned to Japan. He informed the army that three of his comrades still believed the war to be ongoing.

Another two years passed before family photographs and letters were finally dropped into the forest on Lubang Island. Onoda found the parcels but was convinced it was all part of an elaborate trick. He and his two companions remained determined to continue fighting until the bitter end. They had little equipment and almost no provisions: they survived by eating coconuts and bananas and occasionally killing a cow. Their living conditions were abominable: there was the tropical heat, constant rain and infestations of rats. All the while they slept in makeshift huts made from branches.

Years rolled into decades and the men began to feel the effects of age. One of Onoda's comrades was killed by local Filipinos in 1954: another lived for a further 18 years before being shot in October, 1972. He and Onoda had been engaged in a guerrilla raid on Lubang's food supplies when they got caught in a shoot-out. Onoda was now alone: the last Japanese soldier still fighting the Second World War, a conflict that had ended 27 years earlier.

By now his struggle had become a lonely one, yet he refused to lay down his arms. He was still conducting guerrilla raids in the spring of 1974, when a traveling Japanese student, Noria Suzuki, made contact with him. Suzuki broke the news that the war had ended a long time previously. Onoda refused to believe it. He told Suzuki he would never surrender until he received specific orders to that effect from his superior officer.
Only now did the Japanese government get involved in trying to bring Onoda's war to an end. They managed to locate his previous commanding officer, Major Taniguchi, who was thankfully still alive. 
The major was flown to Lubang Island in order to tell Onoda in person to lay down his weapons.

He was finally successful on 9 March, 1974. 'Japan,' he said to Onoda, 'had lost the war and all combat activity was to cease immediately.' Onoda was officially relived from military duties and told to hand over his rifle, ammunition and hand grenades. He was both stunned and horrified. 'We really lost the war!' were his first words. 'How could they [the Japanese army] have been so sloppy? When he returned to Japan, he was feted as a national hero. But Onoda disliked the attention and found Japan a mere shadow of the noble imperial country he had served for so many years. Hiroo Onoda is alive to this day. Now 89 years of age, he remains grateful to Major Taniguchi for tracking him down in the Philippines. Had it not been for Taniguchi's mission, he would still be fighting his lonely war in the thick forests of Lubang Island.  Unaware that the Second World War had ended 29 years earlier, he was still fighting a lonely guerrilla war in the jungles of Lubang Island in the Philippines. His story is one of courage, farce and loyalty gone mad.
2 years ago
2 years ago
2 years ago
2 years ago
2 years ago
2 years ago
2 years ago
2 years ago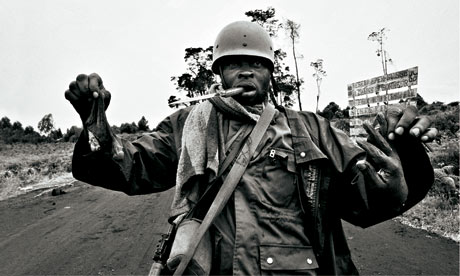 Alvaro Ybarra Zavala, Congo, Nov 2008: 'Years after i took this picture, every time I see it I feel scared again.'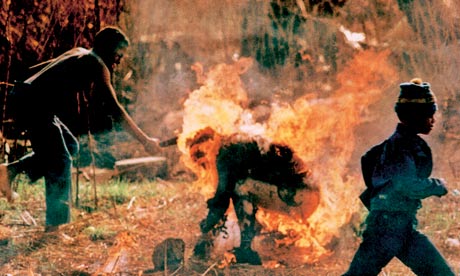 Greg Marinovich, Soweto, 1990: ' "No pictures," someone yelled. I told them I'd stop shooting if they stopped killing him. They didn't.'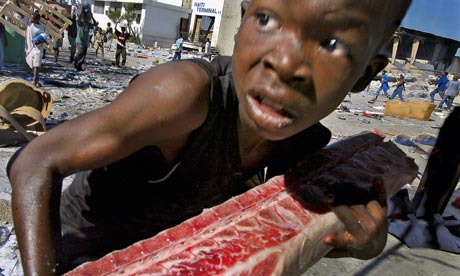 Saul Schwarz, Haiti, 2004: 'I had blood on me, brains. I was crying, shaking. I ran to the car horrified. I was a mess.'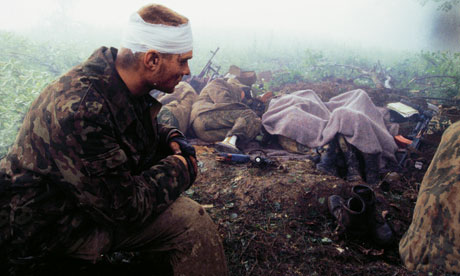 Eric Bouvet, Chechnya, May 1995: 'You see movies, you read books, you can imagine anything. But when you are in front of something, it's not like the movies.'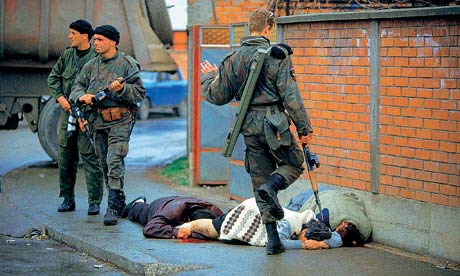 Ron Haviv, Bosnia, 1992: 'I was shaking when I took the shot. None of them was looking at me, so I lifted my camera, just trying to get them in frame. When I put it down, they looked over. They didn't realise I'd taken photos.'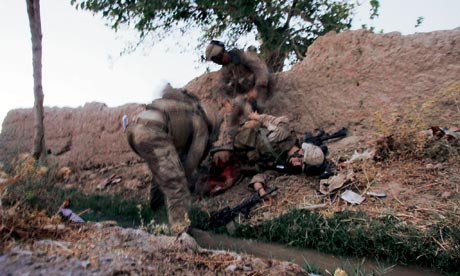 Julie Jacobson, Afghanistan, August 2009: 'The media ground rule was that you couldn't photograph a military casualty in a way that they could be identified… Making that decision was a public act. I got a lot of flak.'
2 years ago
Germany's occupation of Poland is one of the darkest chapters of World War II. Some 6 million people, almost 18 percent of the Polish population, were killed during the Nazi reign of terror that saw mass executions, forced evictions and enslavement.
Adolf Hitler left no doubt about his goal before he ordered the invasion of Poland. Addressing generals and commanders at a reception he gave at his Berchtesgaden retreat on August 22, 1939, Hitler said he was not interested "in reaching a specific line or a new border." He wanted "the destruction of the enemy."
On September 1, 1939, German soldiers marched across the border into neighboring Poland. The vastly superior Wehrmacht forces advanced so quickly that the Polish government was forced to flee to Romania just 16 days later. On September 27, the defenders of the Polish capital, Warsaw, gave up. Nine days later, the last remaining Polish troops laid down their weapons.
Thus begun a nightmarish occupation that would last more than five years. In Poland, the Nazis had more time than in any other occupied country to implement their policies against people they classified as "racially inferior."
The task of implementing Hitler's plan fell to Hans Frank, a 39-year-old lawyer, Nazi Party member and brutal champion of the Nazis' vision of racial purity. Frank was named "Governor-General" of a large chunk of Poland, an area of about 95,000 square kilometers (36,680sq mi), with approximately 10 million inhabitants. This was the western part of Poland that had been annexed by the German Reich, while the eastern half of the country was occupied by the Red Army in accordance with the Ribbentrop-Molotov Pact, the 1939 non-aggression treaty between Nazi Germany and the Soviet Union.
War Crimes Committed from the Outset
Frank was unashamedly proud of his ruthless regime, which contrasted with the comparatively lenient system of rule in the "Protectorate of Bohemia and Moravia," as the Nazis called the majority ethnic-Czech region they had occupied. In 1940, Frank told a reporter for the Völkische Beobachter newspaper: "In Prague, for example, large red posters were hung up announcing that seven Czechs had been executed that day." That had made him think: "If I had to hang up a poster every time we shot seven Poles, we'd have to cut down all the Polish forests, and we still wouldn't be able to produce enough paper for all the posters I'd need."
German soldiers committed war crimes in Poland from the very outset. One soldier in the 41st infantry division noted, "Polish civilians and soldiers are dragged out everywhere. When we finish our operation, the entire village is on fire. Nobody is left alive, also all the dogs were shot."
Wehrmacht soldiers without battle experience thought they saw snipers everywhere, and ended up firing at anything that moved — often their own comrades. And if Polish soldiers merely shot at them, the Germans took revenge by setting entire villages ablaze or taking hostages and executing them.
Following a gun battle by Ciepielow, Colonel Walter Wessel of the 29th motorized infantry division had 300 captured Polish soldiers stripped of their uniform jackets and then shot as partisans.
Although Jews weren't persecuted systematically during the "Polish campaign," the anti-Semitism of the German troops surfaced time and again. The war diary of one machine gun battalion noted, "All the male inhabitants are standing under guard in a large square. The only exceptions are the Jews, who are not standing, but have been made to kneel and pray constantly."
On the very day the last Polish soldiers gave themselves up, Hitler gave a speech to the German parliament, the Reichstag, promising to "reorganize the ethnographic conditions" in Europe. Hitler appointed SS Reichsführer Heinrich Himmler to carry out this project, whereupon Himmler was named Reich Commissioner for the Consolidation of German Nationhood.
A Nation of Slaves
The Nazis' aim was to transform the Poles into a nation of slaves. In May 1940 Himmler wrote that "the non-German peoples of the East may not receive any education beyond four-year elementary school." Their educational goal was to be as follows: "The ability to do simple sums no higher than 500, write their name, and understand that it is their divine duty to obey Germans, be honest, diligent and well-behaved." The SS Reichsführer did not consider reading an essential element of the Polish curriculum.
In October 1940 Hitler ordered "all members of the Polish intelligentsia" to be killed. SS leader Heydrich therefore instructed the heads of the security police task forces to ensure that the remaining members of the Polish "political leadership" be "rendered harmless and placed in a concentration camp." He also saw to it that lists of "teachers, clergymen, noblemen, legionaries, returning officers, etc." were drawn up immediately.
Poland's new masters were interested not only in landowners but more specifically in the influential Catholic clergy. German soldiers murdered 214 priests in the West Prussian diocese of Kulm-Pelplin alone. Elsewhere in West Prussia, Protestant ethnic Germans sawed off Catholic crucifixes and demolished statues of the Virgin Mary. Some 60,000 Poles fell victim to the Nazis' campaign against the intelligentsia.
In the fall of 1939, occupied Poland became a nightmare of often spontaneous and wanton terror. For instance, the head of Radom district threatened the death penalty for anyone caught felling trees in the forest for use as firewood. Throughout the country, the SS and the police slaughtered all those they considered to be Polish nationalists. The race-based expulsions and resettlement carried out by Himmler's henchmen sowed fear, unrest and chaos.