3 weeks ago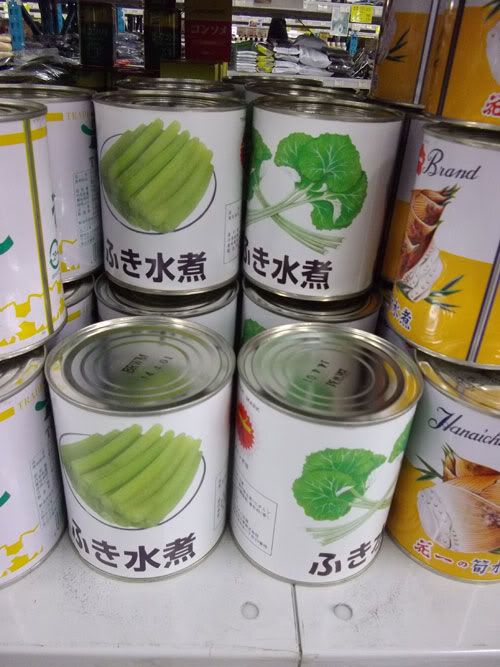 If disco-glitz supermarket Super Tamade is my favourite place to grocery-shop at midnight…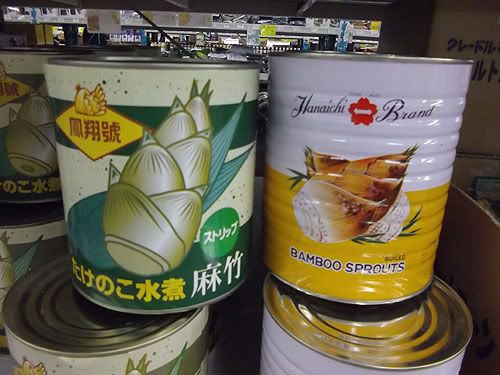 …a 5am shopping hop is more likely to see me at Oda — a catering-oriented cash-and-carry vast, empty and satisfyingly austere — in the Kizu market.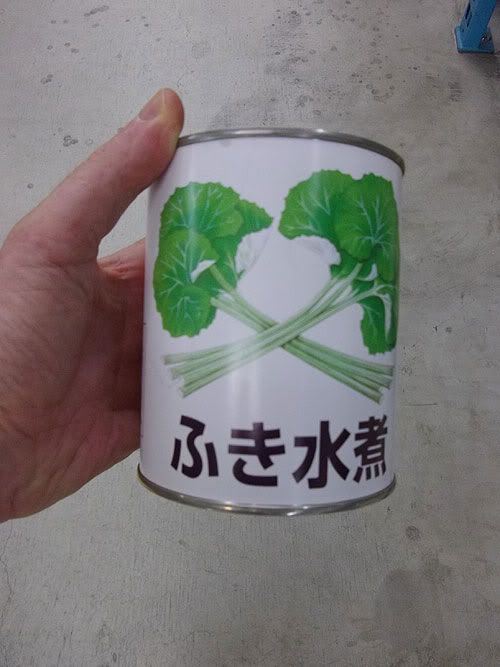 What I like at Oda is the austerity not only of the aisles themselves, but also the look of the generic catering cans containing lotus, chestnut, crabs, green leaves.



There's a whole world of packaging design parallel to the consumer one, aimed at caterers.



Rather than the mammary Mammon of brand (which is all about repetition, recognition, irrational worship, synergy with advertising), catering design aims to communicate as quickly and clearly as possible what's inside the can.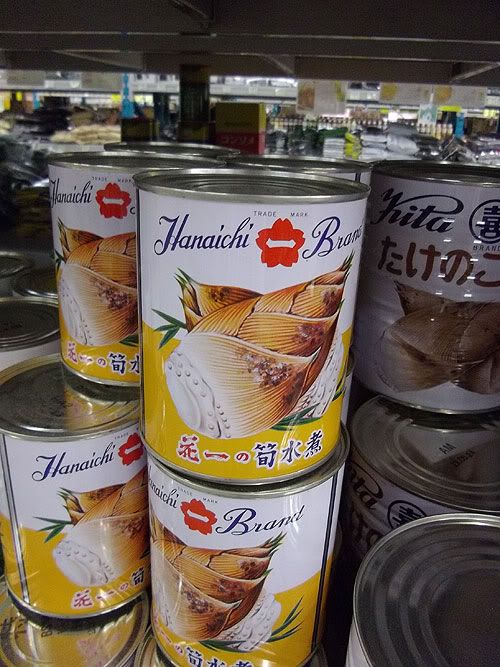 Catering design therefore strikes me as much more sane design — design from a parallel world we might one day inhabit, but currently don't.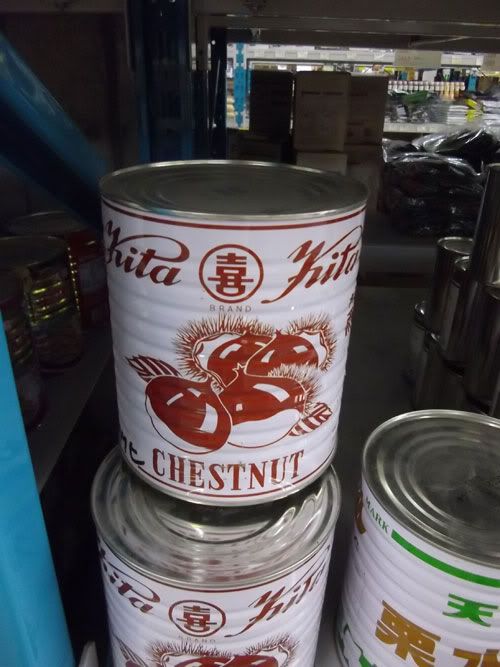 It's the no-frills world of wholesale, not retail. It's for "experts" (restauranteurs, people who get up early to get fresh produce at the nearby fish, bean and tofu market), and yet these "experts" require the simplest imagery imaginable: a picture of a leaf, a white background, the absolute minimum of text…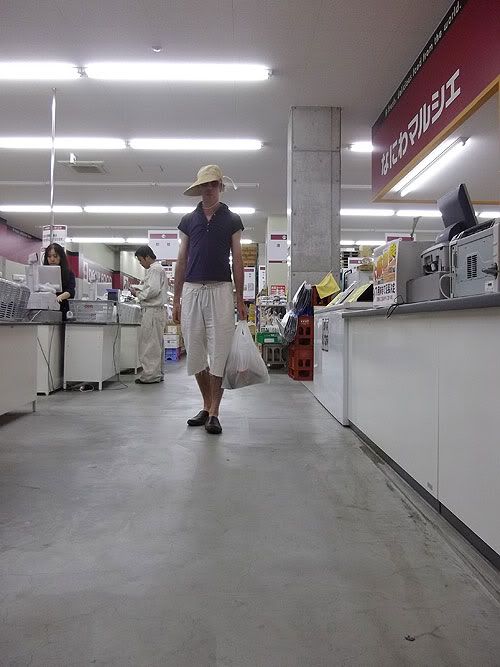 …the cheapest price possible, bulk sizes, and no relaunches, no competitions, adverts, fancy printing, free gifts, jingles, extra packing or wrapping. It's plain as dawn, wholesale is halfway to communism.
1 month ago
1 month ago
1 month ago
The Vons grocery store two miles from my home in Los Angeles, California sells 12 cans of Coca-Cola for $6.59 — 54 cents each. The tool chain that created this simple product is incomprehensibly complex.
Each can originated in a small town of 4,000 people on the Murray River in Western Australia called Pinjarra. Pinjarra is the site of the world's largest bauxite mine. Bauxite is surface mined — basically scraped and dug from the top of the ground. The bauxite is crushed and washed with hot sodium hydroxide, which separates it into aluminum hydroxide and waste material called red mud. The aluminum hydroxide is cooled, then heated to over a thousand degrees celsius in a kiln, where it becomes aluminum oxide, or alumina. The alumina is dissolved in a molten substance called cryolite, a rare mineral first discovered in Greenland, and turned into pure aluminum using electricity in a process called electrolysis. The pure aluminum sinks to the bottom of the molten cryolite, is drained off and placed in a mold. It cools into the shape of a long cylindrical bar. The bar is transported west again, to the Port of Bunbury, and loaded onto a container ship bound for — in the case of Coke for sale in Los Angeles — Long Beach.
The bar is transported to Downey, California, where it is rolled flat in a rolling mill, and turned into aluminum sheets. The sheets are punched into circles and shaped into a cup by a mechanical process called drawing and ironing — this not only makes the can but also thins the aluminum. The transition from flat circle to something that resembles a can takes about a fifth of a second. The outside of the can is decorated using a base layer of urethane acrylate, then up to seven layers of colored acrylic paint and varnish that is cured using ultra violet light, and the inside of the can is painted too — with a complex chemical called a comestible polymeric coating that prevents any of the aluminum getting into the soda. So far, this vast tool chain has only produced an empty, open can with no lid. The next step is to fill it.
Coca-Cola is made from a syrup produced by the Coca-Cola Company of Atlanta. The main ingredient in the formula used in the United States is a sweetener called high-fructose corn syrup 55, so named because it is 55 per cent fructose or "fruit sugar" and 42 per cent glucose or "simple sugar" — the same ratio of fructose to glucose as natural honey. HFCS is made by grinding wet corn until it becomes cornstarch. The cornstarch is mixed with an enzyme secreted by a rod-shaped bacterium called Bacillus and an enzyme secreted by a mold called Aspergillus. This process creates the glucose. A third enzyme, also derived from bacteria, is then used to turn some of the glucose into fructose.
The second ingredient, caramel coloring, gives the drink its distinctive dark brown color. There are four types of caramel coloring — Coca Cola uses type E150d, which is made by heating sugars with sulfite and ammonia to create bitter brown liquid. The syrup's other principal ingredient is phosphoric acid, which adds acidity and is made by diluting burnt phosphorus (created by heating phosphate rock in an arc-furnace) and processing it to remove arsenic.
A much smaller proportion of the syrup is flavors. These include vanilla, which is the fruit of a Mexican orchid that has been dried and cured for around three months; cinnamon, the inner bark of a Sri Lankan tree; coca-leaf which comes from South America and is processed in a unique US government authorized factory in New Jersey to remove its addictive stimulant cocaine; and kola nut, a red nut found on a tree which grows in the African Rain Forest (this may be the origin of Coca-Cola's distinctive red logo).
The final ingredient is caffeine, a stimulating alkaloid that can be derived from the kola nut, coffee beans and other sources.
All these ingredients are combined and boiled down to a concentrate, then transported from the Coca-Cola Company factory in Atlanta to Downey where the concentrate is diluted with water infused with carbon dioxide. Some of the carbon dioxide turns to gas in the water, and these gas bubbles give it effervescence, also know as "fizz," after its sound. 12 ounces of this mixture is poured into the can.
The top of the can is then added. This is carefully engineered: it is made from aluminum, but it has to be thicker and stronger to withstand the pressure of the carbon dioxide gas, and so it uses an alloy with more magnesium than the rest of the can. The lid is punched and scored so that a tab opening, also made of aluminum, can be installed. The finished lid is put on top of the filled can, and the edges of the can are folded over it and welded shut. 12 of these cans are then packaged into a painted paperboard box called a fridge pack, using a machine capable of producing 300 such packs a minute.
The finished product is transported by road to a distribution center and then to my local Vons. This tool chain, which spans bauxite bulldozers, refrigerators, urethane, bacteria and cocaine, produces 70 million cans of Coca-Cola each day, one of which can be purchased for about two quarters on most street corners, and each of which contains far more than something to drink. Like every other tool, a can of Coke is a product of our world entire and contains inventions that trace all the way back to the origins of our species.
The number of individuals who know how to make a can of Coke is zero. The number of individual nations that could produce a can of Coke is zero. This famously American product is not American at all. Invention and creation is something we are all in together. Modern tool chains are so long and complex that they bind us into one people and one planet. They are not only chains of tools, they are also chains of minds: local and foreign, ancient and modern, living and dead — the result of disparate invention and intelligence distributed over time and space. Coca-Cola did not teach the world to sing, no matter what its commercials suggest, yet every can of Coke contains humanity's choir.
2 months ago
In the process of product optimization, food engineers alter a litany of variables with the sole intent of finding the most perfect version (or versions) of a product. Ordinary consumers are paid to spend hours sitting in rooms where they touch, feel, sip, smell, swirl and taste whatever product is in question. Their opinions are dumped into a computer, and the data are sifted and sorted through a statistical method called conjoint analysis, which determines what features will be most attractive to consumers. Moskowitz likes to imagine that his computer is divided into silos, in which each of the attributes is stacked. But it's not simply a matter of comparing Color 23 with Color 24. In the most complicated projects, Color 23 must be combined with Syrup 11 and Packaging 6, and on and on, in seemingly infinite combinations. Even for jobs in which the only concern is taste and the variables are limited to the ingredients, endless charts and graphs will come spewing out of Moskowitz's computer. "The mathematical model maps out the ingredients to the sensory perceptions these ingredients create," he told me, "so I can just dial a new product. This is the engineering approach."
2 months ago
2 months ago
By JOHN ELIGON
NY Times: February 28, 2013
IONIA, Iowa – There once was a young boy who built motorcycles with his father, raised pigs for Iowa county fairs and eventually fell in love with computers when his fingers first tapped a Teletype portal in middle school. He would write programs to help him with eighth-grade algebra and use ASCII code to create images resembling Playboy centerfolds.
When he grew up, he would parlay his ingenuity into a career of building Internet portals for cities and computer networks for big companies. He would spin another business from a whim and a joke – building aquariums out of old Macintosh computers.
And when he reached his mid 40s, right when one might expect his entrepreneurial flame to dim, he instead embarked on a new unconventional endeavor, one he hopes will revolutionize an industry.
Carl Edgar Blake II has tried to breed the perfect pig. Fatty, yet smooth. Meaty, yet flavorful.
He crossed a Chinese swine, the Meishan, with the Russian wild boar — emulating a 19th-century German formula created when King Wilhelm I imported the fatty Meishan to breed with leaner native wild pigs in what is now the state of Baden-Württemberg. They called that one the Swabian Hall. Dark and juicy, it assumed a place among Europe's finest porcine.
Mr. Blake, 49, has bet that his 21st-century American version – the Iowa Swabian Hall – can be equally delectable.
The early reviews have been promising.
Two years after his operation began, his pig won a heritage pork culinary contest in 2010, Cochon 555 in San Francisco.
"It was great meat," said Staffan Terje, the chef and owner of Perbacco in San Francisco, who prepared Mr. Blake's pig for the competition.
"It was rich in flavor and well-marbled in its consistency," said Michael Anthony, the executive chef at Gramercy Tavern in New York, who cooked dishes for his restaurant with an Iowa Swabian Hall.
At a glance, Mr. Blake would hardly be considered part of the upscale culinary culture. His 6-foot-2-inch balloonlike frame, beard, ponytail and signature overalls with the left strap unslung (he owns a dark pair for funerals) scream more André the Giant than Jean-Georges. He shoots guns and soaks in "hillbilly hot tubs" (dig a hole, lay a tarp, fill with water and dive in).
Then again, Mr. Blake has long taken pride in his unconventionality.
"I can build a motorcycle, I can fly a model airplane, I can throw somebody out of a bar, I can wrestle a pig and I can program a computer," he said. "I'm a strange duck, that's for sure."
His leap into the heritage pork business started when he read an article online about a popular breed, the Mangalitsa, that a businessman was raising in Washington State. Unable to buy any of the businessman's stock, Mr. Blake began researching heritage pigs and said he discovered that the Swabian Hall regularly outperformed other fine swine in taste contests.
After asking around, he eventually found Meishan hogs that Iowa State University was using for research and bought several of them. He bought a Russian wild boar named Hercules from a hunting reserve. In November 2009, the first Iowa Swabian Hall pigs were born.
They are floppy-eared with black fur, broad jowls, a thick rump, creased foreheads, and long bodies and schnauzers. When butchered, they have a broad slab of ivory fat to go with deep red meat, the antithesis of the "other white meat" craze when the pork industry moved toward leaner hogs.
But Swabians have not been universally admired.
Herb Eckhouse, the owner of La Quercia, a cured meat manufacturer near Des Moines, made prosciutto from one of Mr. Blake's pigs and said he would not work with them anymore because they were too fatty. He said he was having difficulty selling them.
"We found that we preferred other breeds to that breed for their flavor," he said.
Criticism is among the smallest bumps in Mr. Blake's porcine journey. He has had to wrestle aggressive pigs and even shot one. State inspectors have visited, demanding to see his wild boars out of concern that he possessed them illegally.
The police have responded to accusations of maltreated pigs. The gaunt backs of his Meishan pigs were normal, the result of their belly fat stretching the skin, he said he told the police, who were initially skeptical. "You ain't taking them over my dead body," Mr. Blake said he told the authorities, who, after further investigation, let him be.
There was even a suspected case of poisoning, Mr. Blake said. One morning in the middle of 2009, two men – one tall, one short – showed up in a black truck at a farmstead where Mr. Blake kept his pigs, he said. The family living there thought the men were friends of Mr. Blake's, and they entered the barn with a black satchel. About a week and a half later,he said, his sows were birthing dead piglets.
At one point, Mr. Blake said, his herd had grown to more than 1,200. But the numbers have since dramatically decreased through sales, samples he gave away and some hitches in the raising process. There was one instance, he said, when an elderly man he had hired to raise the pigs botched a castration, leaving one testicle attached.
Mr. Blake also struggled to finance his operation, which he calls Rustik Rooster Farms. He went to banks, the government, angel investment groups and individuals but could not get anyone to invest. Things became so dire that he had decided to quit one day last summer, only to receive a call the next morning from a producer of the Travel Channel's "Bizarre Foods," saying the network wanted to feature him in an episode. The episode was broadcast on Monday, and Mr. Blake said he has been inundated with calls from people across the country wanting pigs and bacon.
Over the past year, Mr. Blake has stepped back from his operation to regroup. He has hired Amish farmers in eastern Iowa to raise his pigs so he can focus on the marketing and sales. Several times a week, with a Rockstar Energy Drink in hand, he slides into a red, rusted 1994 Toyota pickup truck to make the five-hour round-trip journey from his headquarters here to the Amish's rolling pastures.
By March, he said, he hopes to have about 50 of his Swabians market-ready – he sells them for $3.75 to $4.50 per pound. Within the next seven months, he said, he hopes to have enough pigs to begin selling them weekly. In the meantime, he is supporting himself by selling bacon, beef sticks, novelties like bacon floss and bandages, and roasting pigs for special events.
But Mr. Blake is never quite satisfied. He speaks giddily of the hydroponic chambers (not "hippie hydroponics," he says) he uses to make barley to feed his pigs, and of a "super pig" he is breeding – one with the tasty qualities of the Swabian, but that can be raised at the speed of commercial pigs. For now, he is not saying much more than that.
"I think we're on the verge of something," he said.
2 months ago